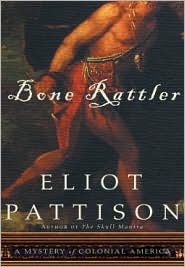 It's Friday! And you know what that means…a free ebook from Barnes & Noble!
Link: Bone Rattler by Eliot Pattison
Cost: FREE!
Synopsis: Aboard a British convict ship bound for the New World, protagonist Duncan McCallum witnesses a series of murders and apparent suicides among his fellow Scottish prisoners. A strange trail of clues leads Duncan into the New World and eventually thrusts him into the bloody maw of the French and Indian War. Duncan is indentured to the British Lord Ramsey, whose estate in the uncharted New York woodlands is a Heart of Darkness where multiple warring factions are engaged in physical, psychological, and spiritual battle.
Exploring a frontier world shrouded in danger and defying death in a wilderness populated by European settlers, Indian shamans, and mysterious scalping parties, Duncan, the exiled chief of his near-extinct Scottish clan, finds that sometimes justice cannot be reached unless the cultures and spirits of those involved are appeased.
Be sure to check out Barnes & Noble's blog, Unbound: The NOOK Blog, for other great weekly deals and tips.
Jennifer became addicted to books when she randomly picked up a Sweet Valley High book in grade school.She never looked back.After blowing through the SVH and SVU series faster than her parents could put them in her hands, she began perusing her stepfather's bookshelves and reading fantasy like Piers Anthony's Incarnations of Immortality series, which she still maintains is some of the best fantasy ever.She collects books like the Duggar family collects kids and began waiting for her Hogwarts letter at the tender age of 33.
Latest posts by Jennifer @ The Bawdy Book Blog (see all)